This is Shanen. I'm here to tell ya all about Our (Julie, Chelsea, & I) day at the Hayward, waiting for the Youngstown Concert. I'll tell you what happened with Julie & Chelsea's chats with them later. Chelsea & Sammy together were so funny! more detail by detail coming soon..... Autograph's at bottom of this page!

Hayward Concert 3-23-00

*Before the Show*
Julie, Chelsea & I decided it would be nice to take a day off of our busy schedules...(It was a joke). We got to Hayward around 8:00 am. (We woke up at 5:00 am! We were very tired). We took pictures of ourselves with our youngstown signs & then we headed to the mall at 10:00 am. We found their bus & Julie & Chelsea began to freak. I was super happy too but I "kept my cool" We took some pictures & made some jokes. We got there & there was only 3 other people in the line. The girls were SUPER nice. I began conversation with the girls & about 30 mins later 2 more girls showed up. We all began talking & exchanging e-mail addresses. Hours later, the YT Club 11 was formed. (I make friends real fast. We hung out for the remander of the hours until we got inside. (Which was about 30 mins before the show) but until then we found some people who worked for kodak & we decided to talk to them for a little while. They took pictures of the 11 of us (& Only the 11 of us.......) Some of the other girls in the line we giving us dirty looks because all the important VIP people that showed up (Kodak, Radio Disney, Ytown's Roadie,...etc) would come talk to us & no one else so we made up a song "B-U-T-T H-U-R-T!!!". Then later on, when the Radio disney van pulled up, I ran to the van & made friends with "Marty". He was such a sweetie. He was extreamely nice to the 11 of us in the front of the line. (We were the roudiest by far. We always were singing & dancing, & getting interview with the radio stations.).

Marty came out to the 11 of us & gave us VIP passes from Radio disney. We were all totally stoked that we would get to go backstage BUT the kodak people wouldn't let us go backstage so the passes meant nothing. We were a little pissed off when we went to the stage. There was the street team (the members that had their lanyards. The got to go in a hour before us.) so we took out place by the stage (we were pretty close anyway so we were happy). There was a little girl next to us so Julie, being the compassionate person that she is, let the little girl go in front of her. Then the show was about to start.....

*4:00 pm, Opening Act*
An opening act went on stage. Thank you to the many great people who told me her name cause I forgot it. Her name was Ta-Gana. She sings on the '10 Things I Hate About You' soundtrack. She sang about 3 or 4 songs. She shook my hand & was real sweet to the Ytown fans (which I'm postive are hers too now). Dee Dee & Buzz from Radio Disney came onstage & asked some questions. Dee Dee was my favorite. (You'll know why later). They gave out a few CD's & laughed at the crowd because everytime they would say Youngstown, everyone would scream.

*Show time!*
As they ran onstage, the screams became so loud. They began to dance & the crowd pushed up against the stage. We were so afraid (especially Julie) for the little girl to get hurt, she let her sit in the corner of the stage. They started the show out by singing "Don't Worry (Dance floor)" (One of my favorite songs). We were trying so hard to stay together but people cut in front of Chelsea & we lost her a few rows back. Dc would come to our side (Which made me super happy since DC is my favorite member) all the time. He took ahold of my hand & smiled as he sang. He grabbed Julie's hand (lots) & he sang to the little girl right next to us. Sammy would come over to our side lots too & I got to grab ahold of his hand to, so did Julie. (Later on, Julie & I thought it would be fun to see who would get their hands grabbed more.....Dc grabbed my hand 2 1/2 times during the first concert, Sammy grabbed twice. She still won. She won by like 2 more grabs by each guy & she got to grab Dallas's hand & I didn't.ha ha ha.) Sammy sang to my friend Hussna & DC gave her one of his chinese bracelets. (Her sister Austa was also there. They are members of the YT Club 11...HA!). A girl handed Dc a beanie baby bear & he laughed & said "You're supposed to throw it at me. Haven't you seen the movie 2gether? LOL" (That's Shanen's favorite movie). When they finished (With 'Pedal to the Steel'), they left the stage to freshen up.

*Autograph signing*
people began to line up for the autograph signing. They came back out & right before it was our time to go into the autograph signing, some girls cut in front of us & after they went, they stopped to get ready for their next concert. It bummed us a little because we were so afraid we wouldn't atleast be able to say hi to their faces.

*Show Time # 2*
They came back onstage again for their re-show concert. It was better than the first one. (This is where Dee Dee comes in) We ( Mostly julies mom, who came from work to watch) talked to Dee Dee & told her what had happened. She felt so bad. We had been there all day & most of these people had shown up about 30 mins before the show. She talked to security & the security told us to stay there. We stayed by the autograph place right by the stage for the concert. Dee Dee had made sure that security would block off the people so they would stay away from that area so it was only Chelsea, Julie, & I in this one area by the stage. They began to sing their songs again. Dc waved to Julie...a few times. There was a woman with her child that had had the same problem as us (with the signing). The little girl was so short, she couldn't see so me, being the fun, compassionate person that I am, put the little girl on my shoulders. (it was Chelsea's Idea) Sammy looked over & I waved a little wave with one hand (The other hand was holding the little girl up). He said "awe" & started to sing to our group. I pointed upward & mouthed the words "Sing to the little girl" so that's exactly what he did. After that song I put her down & she stood one a chair to see. They sang "Through your eyes" & Chelsea put up her sign (which read "Sammy Sing To Me") & he sang to her with the hugest grin on his face. Then after they sang some more songs, they finished with "Pedal to The Steel" & Dc's Yelled to the Audience "Come On, Let's Roll!" Chelsea & I danced some more & When he yelled that, I made a "Arsenio Hall Roll" in the air, I waved & DC looked over & he smiled, pointed to me, & winked. I was just so happy, I hugged my friends in complete awwwww. Then they finished.

*Second Autograph signing*
We were already in line for the signing & about 20 people cut in front of us so me, also being the very honest confronter of the group, asked about 10 of them to move back & surprizingly, some of them did. I wasn't bitchy with them....what am I saying? Yes I was! LOL. I just explained the whole deal about being there at 10:00am & they all understood & said "You deserve to be in front of us. You guys are bigger fans than us". I was like "Thank you so much". In the background as the other people went into the signing, we (Chelsea, me, & the 3 other girls that were in line first in the morning) started to sing to "Reflection" by Christina Aguilera. We had some fun & then finally it was our time to go in. Julie went first. She talked to the guys (got hugs & kisses too) & then she stood right by DC & waited for us to go in. Then It was my turn next. Here's my conversation with all of the guys. (Yes, I have very good memory for the most part.....sometimes!)

*Sammy First*
Sammy: "Hey Girl"
Me: "Hey Sammy. How are you?!"
Sammy: "I'm doing great. Thank you. How about you?"
Me: "Couldn't be better than this...HA!"
Sammy: "What's your name?"
Me: "Shanen"
Sammy: "Did you enjoy the concert?"
Me: "OH hell yes! HA!.. Me & my friends have been here since 10:00 am this morning!"
Sammy: "10:00 am? man! That's early. We have such great fans like you & your friends."
(signed autograph)
Me: "Thank You Sammy"
Sammy: "You're welcome Shanen. I hope you & your friends will come see us again. We'll be back."
Me: "Oh! definately. It was nice talking to you"
(Gave me hug & kiss)
Sammy: "You too!"
Me: "Buh-bye"
Sammy: (laughs) "Bye"

*Dallas Second*
Me: "Hey Dallas. I'm Shanen."
Dallas: "Hi Shanen. How are you doin' today?"
Me: "I'm doing great. How 'bout you?"
Dallas: "Grrrrrreat!" (laughs)
Me: "My friends & I have been here since 10:00 am. This crowd is crazy!"
(signed autograph)
Dallas: "I've seen! Wow. We never expected this at all."
Me: "What happened to your hand?"
Dallas: "I hurt it driving."
Me: "I'm sorry. I hope it heals fast. (laugh)
Dallas: "Thank you. That's very sweet."
Me: "Bye Dallas"
Dallas: "Bye...what's your na...oh! Shanen! (laughs)(he forgot my name for a second!HA!)
(Hug & kiss)

*Last But Not Least.......DC!!!!!*
Me: "Hey cutie!" (laughs)
DC: "Come here girl. I saw you dancing! (laughs)
(Hug & kiss)
Me: "DC, were you in a chatroom online Sunday?"
DC: "Yeah. Why?"
Me: "I was there!!!!"
DC: "What was your name?"
Me: "Shanenk"
DC: "Shanen's your name right? I remember ya." (laughs)
Me: "yep, that's me. My friends & I have been here since 10:00 am."
DC: "That's true dedication & we truely appriciate that. Thank you."
(signs autograph)
Me: "Can I trade you bracelets?"
DC: "Well, these are from the fans. It's like your getting theirs ya know? Hold on" (Checks himself & finds ONE) (exchange them)
Me: "Thank you. I love you. You are so nice"
DC: "Thank you. I love you too. You are so cute"(laughs) (sort of mocking me dontcha think? HA! joke)
Me: "(blushing) Thank you again."
DC: "Your welcome."
Me: "Bye Dc cutie."
DC: "Bye Shanen. Give me another hug."
(Hug & two kisses, one one each cheek.....YAY!)
(I blew him a kiss as we left & he smiled & waved back, pretending like it hit him. Very weird huh? LOL)

There was more but I don't remember it all.....sucks huh? hee hee hee

*The next day*
Julie & I got in a mini misunderstanding. Chelsea & Julie go to the same school. I go to a different high school than they do. Chelsea told Julie that I wouldn't take the camera from her to take pics of Julie when she met them. (I didn't hear Chelsea at all) I told her what happened because she was upset. When I was done talking to Julie, I felt terrible. She said she was okay. I just told her "Julie, you're my best friend. I wouldn't do that to you!" & she told me I'm her best friend too. I love her way too much to diss her like that. That would be way F**ked up!. That's what Shannon Caccippo (girl we don't like) would do! I just felt so bad. She took pics of us meeting the guys but no one got pics of her. But besides that, I sit in bed every morning with a huge smile on my face because the 3 of us made it together. We met Youngstown!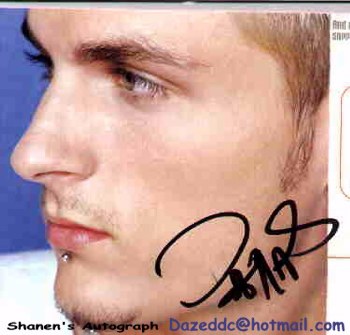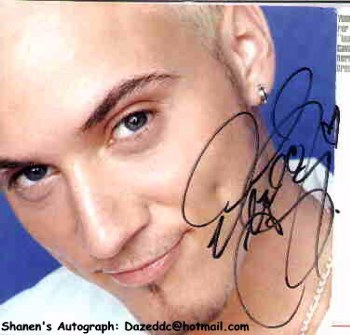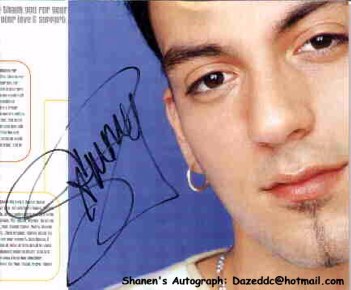 These are Shanen's autographs!!! Please don't take them!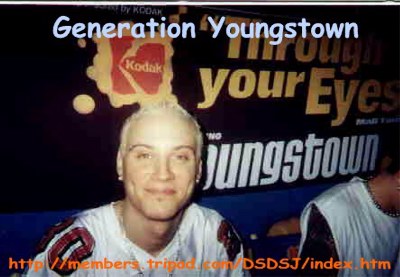 Julie took this picture when I was meeting Dallas. DON'T TAKE IT! It's our favorite picture!!!! They Love us..... For more pictures of the Hayward concert, go to the picture section.