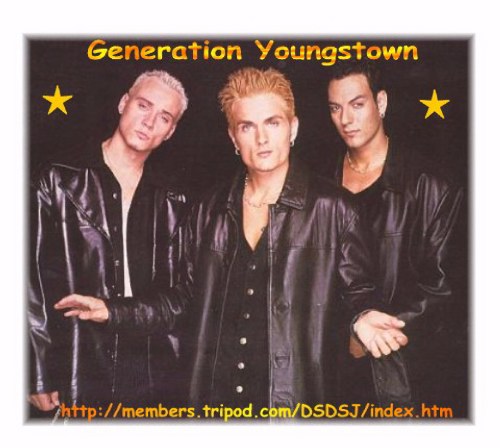 Favorite Quote:

I was a pretty popular troublemaker. I was a pimp. I got in lots of trouble, I slept a lot in class but the teachers knew I meant well.

DC- PopStar Magizine (May/June 00)




(Updated 5-26-00)




If you are going to the Nsync concert in Oakland June 11th, go to the tour section of this site. You are needed. Click there for more information!




New news: We have a new co-founder. Please Welcome Amy (also known as the North Cali YT Angelz leader!) She's here to help with this site so it's now her site too! If you treat her like crap, be prepared to be in big trouble! Please treat her with respect cuz she kicks ass!

Soon we will have info about her on this site & also a way to contact her.......sorry! You have to wait.




Go vote for PEDAL TO THE STEEL @ Radio Disney!! They have NOT been on the countdown for 2 weeks now...GO VOTE!! ---------Amy



Note: Someone is hacking onto yahoo clubs & is deleting clubs & is messing with my friends. "Guys in YT" had to remake their site because someone deleted it. Hackers are also into "Rolling with Youngstown". They are messing with Noele & her account. I thought 'Hey, you wanna mess with my club, that's fine' but now they are messing with my friends clubs. I wont rest until I find out who's jacking up the system. Please listen & leave them alone. If you know anything about this or know who is doing this, please contact me & I'll tell them at once!

Welcome to *Generation Youngstown*. Thank you for coming. This site is dedicated to 3 guys
(Sammy, Dallas, & DC) known as Youngstown. We are 3 girls from Modesto, California (Julie, Chelsea, & Shanen) who totally love YTown. This site updates almost daily so check back in for the latest news & information. Please bookmark this site!!!!



This is a sound wav of Me, Shanen, welcoming you to this site. You can also hear a sneek peek of D*Votion (minus Ashley for now) singing.

D*Votion = Shanen Bellew, Christi Thompson & Ashley Dunn




D*Votion's Official site it up & running. (D*Votion is the group Shanen is in). It has sounds up & running now!

Check it out at:



We met Youngstown in Hayward on 3-23-00! Go to the Review section for Shanen's review! Autographs are already posted! We added a Yt Concert pics section!
If you went to the Hayward thing, or are on the Street Team, check out the Thank you's section!!!

Funny News : If you have seen Yt live, the intro song they are dancing to is "Crazy Horse" by Ozzy Osbourne. Aren't you glad you know now? It was killing me! That's the song playing in the background of this site now :-P

I also just noticed this: when you look at the YT concert pictures (the picture that shows the bus), look in the corner! It's the security. that's when we got kicked out of the parking lot! LOL





They did such an amazing job working the crowds in Hayward! Way to go guys. Keep up the great work. You're doing awesome work! YTown knows how to work the crowd & they sure showed it. They rocked the house. Hayward will never be the same! Much Love & kisses to the guys!

(Shanen's Note: If you want to send any info to me, put the name of the part of the page in the subject "example: links", & if you want me to get it, I'm most likely to get it faster at Shanenk@yahoo.com)

Go to Radio Disney & Request the song:
"Pedal to The Steel"






Sign our guestbook. Shanen broke the last one on accident. It's brand new so sign it!




Sign Our Generation Youngstown Guestbook




1000's of peeps have been here!!! HA



We Hope you like this site. We've spent lots of time on it & it's not even close to being done. If you want us to change something, e-mail us & we'll get back to you & change it. & If Youngstown comes here, Like yay, they can e-mail us too. That'll make us 3 happy chicks! Well, enough of us blabbing on,,,,,,,,DC-Ya!!!



If you have awards, e-mail us. We wanna win them! Ha ha!